All Emmaus & Chrysalis Events are at:
Hanging Rock Christian Assembly
West Lebanon, IN 47991

Click Here for Directions &

Map
  Per the camp director's request:
PLEASE DO NOT DRIVE OR PARK ON THE GRASS AT HANGING ROCK!
Exception: If necessary, candlelight attendees may park among the trees beside the dining hall
only
if there hasn't been enough rain to make the area boggy.
Walk to Emmaus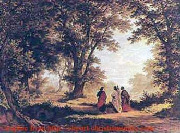 Walks are Thursday thru Sunday
    Emmaus Candlelight –  
For Men's Walk
:   Start gathering 
Saturday
 at 
8:00 PM
** Please remember your candle! **  
For Women's Walk & Girl's Chrysalis for Sat. April 8th, 2017
:  Start gathering
Saturday
at
7:30 PM
** Please remember your candle! **   Emmaus Closing – Please be there 
Sunday
 by
4:00 PM
2018 Walks
Men's Walk #95 
April 5 – April 8, 2018
Women's Walk #96
April 12 – April 15, 2018
Chrysalis Flights
Flights are Friday – Sunday

2017 Flights:
Girl's Flight# 43 – April 6 – 9, 2017
Boy's Flight# 44 – October 5-8, 2017
Chrysalis Candlelight – Start gathering
Saturday
at
8:00 PM
Chrysalis Closing – Please be there
Sunday
 by
4:00 PM
Also:
We want to encourage all community members to remember the Chrysalis flights.  The youth also need our Agape support as well as our attendance at Candlelight and Closing.
Did you know?
That Burning Hearts Emmaus/Chrysalis is a 501(c)(3) Non-profit Organization.  As such, contributions/ gifts may be tax deductible (please talk with your tax preparer).  Walk fees are not deductible.
This website was necessitated by the extreme cost associated with sending the Flamethrower.  The cost of the old Flamethrower was in excess of $2,000.00 annually for which we received no reimbursement.  The cost for 1 year to have this Website is $127.35.  We attempted a subscription Newsletter at $5.00 per year but there were not enough subscribers to cover costs.
The funds we have to hold Walks and Flights is close to break-even, in other words we operate with very little or no cushion.  How close you might ask?  The team fees are needed to be paid before the walk so that we can buy the food and supplies for the walk.  The pilgrim fees are needed to pay the camp fees after the walk.
If we don't have full walks, fixed costs (camp fees) are spread over less income.  And, if donations at gatherings are not enough to cover scholarships, we can go into the red for a Walk.  Recent Men's Walks/Boy's Chrysalis Flights have not had enough Pilgrims/Caterpillars to cover expenses and have been in the red.  The walk fee increase was necessitated by cost increases, which continue to increase.  Therefore, fees may increase again in the future, especially if we do not fill every walk/flight, or Walks/Flights may need to be cancelled.  There is a set minimum number of participants established by the Upper Room.
You can help:
1)  Sponsor pilgrims to walk capacity to lower the fixed cost per participant.
2)  Add another dollar when the plate is passed at gatherings for scholarships.
3)  Donate to the scholarship fund in memory of JP Morgan.
4)  Just donate a few dollars to the general operating fund